This series of screenshots has been captured by Michael Fratoni on a Toshiba Satellite Pro 420CDS (P100, 40M ram) running Red Hat 8.0.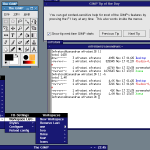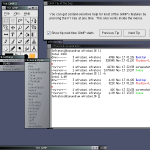 They show the Gimp and several others applications running under fluxbox, a Blackbox spin-off.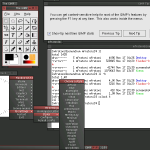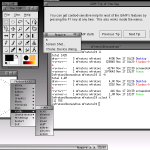 The main interest of this series is the fact that there is no XFree underneath! The laptop is running kdrive (a.k.a. TinyX). Running top on the laptop gives:
    792 mfratoni  15   0 22756  22M 12384 S    15.3 59.8   1:19 mozilla-bin
    720 root      15   0  7192 3600  1148 S    10.0  9.5   0:27 X
Michael is now working to package kdrive in RPM format, and install it via slinky from scratch.
RULE = Run Up to Date Linux Everywhere